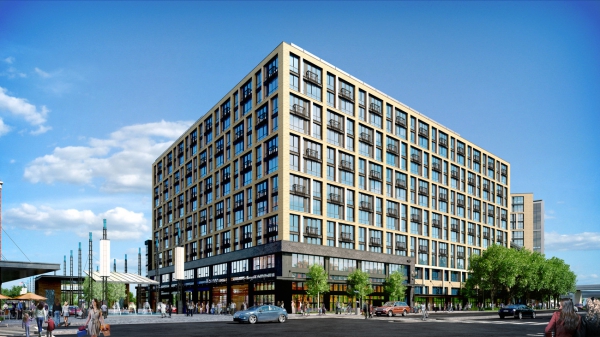 Shake Shack's Setting Up Shack At The Wharf
"The Wharf Shack" Takes Part in the Culinary Transformation of DC's Waterfront
WASHINGTON, DC, April 4, 2017 - Officials from Hoffman-Madison Waterfront (HMW), the developer of The Wharf, today announced that Shake Shack will open in Fall 2017. The Wharf is the $2 billion, mile-long waterfront neighborhood along the Washington Channel of the Potomac River—the new food destination of the nation's capital.
"We are delighted to welcome Danny Meyer's iconic Shake Shack to The Wharf," said Amer Hammour, Chairman of Madison Marquette. "This globally popular concept is an excellent fit for the waterfront, and Shake Shack adds a touch of fun and variety to our dining scene," Hammour added.
Shake Shack, the critically acclaimed, modern day "roadside" burger stand founded by restaurateur Danny Meyer, will join nearly 20 food establishments opening at The Wharf this fall (including Del Mar by Fabio and Maria Trabocchi, Requin by Mike Isabella and Jennifer Carroll, a three-story Italian market and restaurant by Nick Stefanelli, Blue Bottle, and much more). Shake Shack's Wharf Street location is approximately 3,500-square-feet, includes an interior mezzanine and outdoor waterfront seating.
"Just as Shake Shack has revolutionized the burger culture in this country, The Wharf is set to transform the nation's capital in ways it has never seen before," said Monty Hoffman Founder and CEO of PN Hoffman." The waterfront is exuberant and Shake Shack plays a big role in this transformation."
The Shake Shack menu will feature ingredients from local purveyors from the District in addition to Shack classics and frozen custard confections.
ns, events and volunteer
Like all of the brand's locations, The Wharf Shack will be constructed with recycled and sustainable materials. Booths will be made from lumber certified by the Forest Stewardship Council, and tabletops will be made from reclaimed bowling alley lanes from New York-based CounterEvolution. Shake Shack construction aligns with The Wharf's commitment to building a sustainable neighborhood and lasting waterfront community designed to achieve LEED® ND Gold.
About Shake Shack
Shake Shack is a modern day "roadside" burger stand known for its 100% all-natural Angus beef burgers and flat-top Vienna beef dogs (no added hormones and no antibiotics ever), 100% all-natural cage-free chicken (no antibiotics ever), spun-fresh frozen custard, crinkle cut fries, craft beer and wine (available at select locations) and more. With its fresh, simple, high-quality food at a great value, Shake Shack is a fun and lively community gathering place with widespread appeal. From its premium ingredients and caring hiring practices to its inspiring designs and deep community investment, Shake Shack's mission is to Stand For Something Good®. Since the original Shack opened in 2004 in NYC's Madison Square Park, the company has opened multiple locations in 17 states and the District of Columbia, as well as international locations including London, Istanbul, Dubai, Tokyo, Moscow and more.
The Wharf
The Wharf is the $2 billion, world-class, mixed-use waterfront development located on the Washington Channel of the Potomac River. Situated along the District of Columbia's Southwest Waterfront, The Wharf is adjacent to the National Mall with a development area that stretches nearly one mile, across 24 acres of land and 50 acres of water from the Municipal Fish Market to Fort McNair. When complete, it will feature more than 3 million square feet of new residential, office, hotel, retail, cultural, marina, and public uses including waterfront parks, promenades, piers, and docks.
The first phase of The Wharf will open in October of 2017 and celebrate with a six-month long series of events and public activities debuting on Thursday, October 12.
The Wharf is a development by Hoffman-Madison Waterfront (HMW). The Wharf development team is led by PN Hoffman and Madison Marquette and also includes ER Bacon Development, City Partners, Paramount Development and Triden Development.
More information about The Wharf is available at www.wharfdc.com.
Wharf Contact:
Sofia Royce, BrandLinkDC
o. 202.733.5223 c. 352.328.1489
This email address is being protected from spambots. You need JavaScript enabled to view it.
Shake Shack Contacts:
Abigail Knoff, Shake Shack
o.646.747.3445
This email address is being protected from spambots. You need JavaScript enabled to view it.
Rebecca Chin, TAA PR,
o. 202.846.1805
This email address is being protected from spambots. You need JavaScript enabled to view it.