Getting Here
So Many Options
Getting to and from The Channel could not be easier, with so many options available to you. Walk to the nearby L'Enfant and Waterfront Metro stations. Capital Bikeshare and dedicated bike paths make it easy to pedal here. Jump on the regional water taxi from Transit Pier, right outside your building. Underground parking is available for some units. And access to highways, regional train stations and airports is easy from here.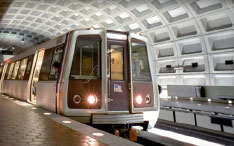 All Imaginable Modes of Transportation
Easily Accessible
No other location in the region is as easily accessible as The Wharf. Centrally located in the Greater Washington Metropolitan Area, this waterfront neighborhood can be reached through all imaginable modes of transportation—from car and public transportation to bike and boat—and offers plenty of parking.
5 Metro lines and a VRE station within easy walking distance (4-minute walk to Waterfront Metro's Green line, and a 10-minute walk to the VRE station as well as L'Enfant Plaza's Green, Yellow, Blue, Orange, and Silver Metro lines)
10 minutes by car to Reagan National Airport and Union Station
2,500 parking spaces
1,750 bike parking spaces
1/2 mile of dedicated bike path
4 Capital Bike Share stations
5 stops on the new regional Water Taxi service connecting The Wharf to Georgetown, Virginia, and Maryland